Buying Guide based on the market trends of 2022
*This post contains affiliate links. That means that if you make a purchase after clicking on a link we may earn a small commission at no extra cost to you. For more information, click here*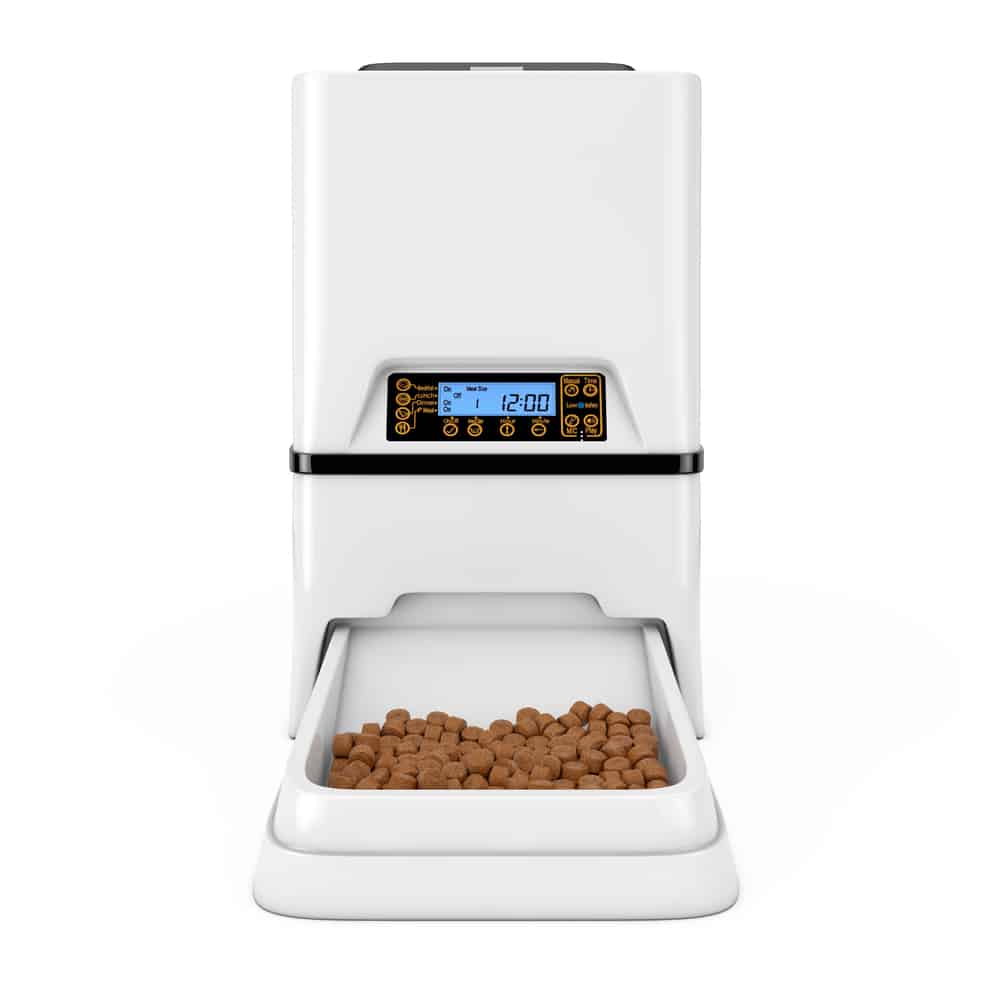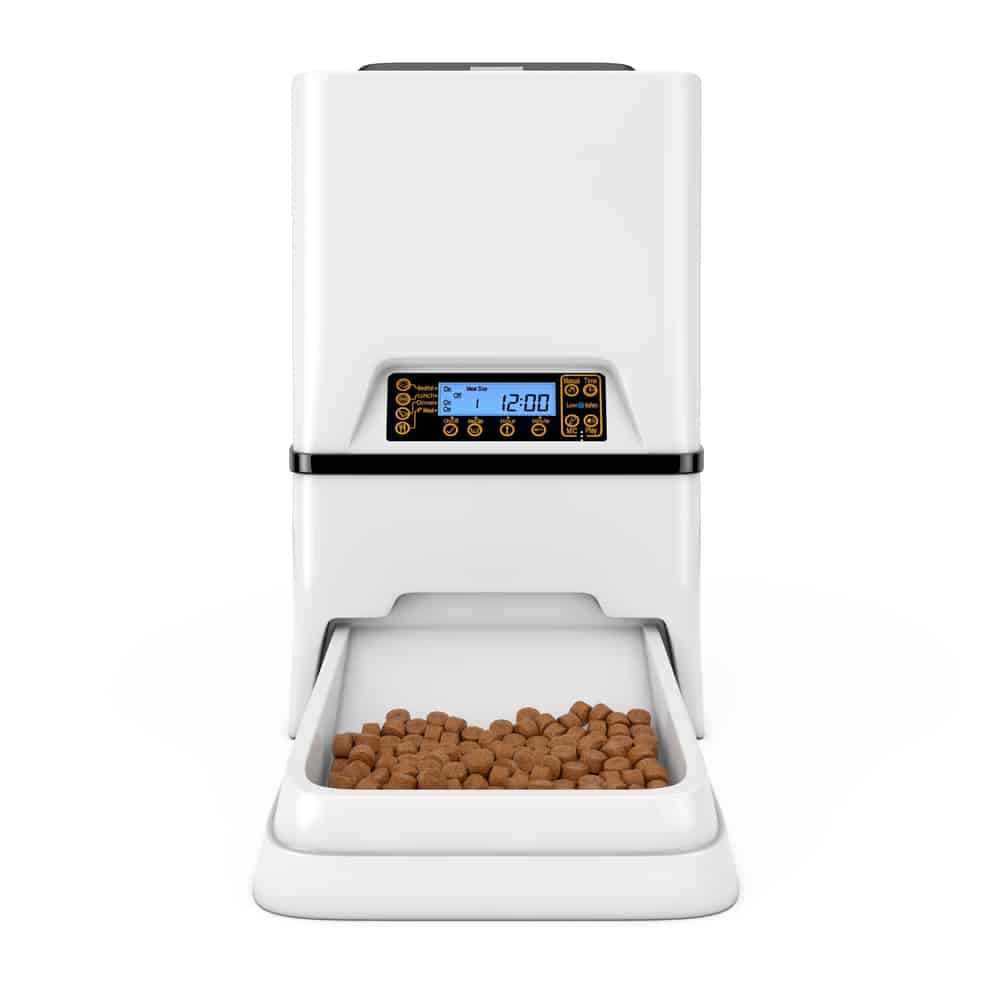 "Best Automatic Cat Food Feeders" is a trendy search term for a majority of cat owners. Mainly because owners are not always there to see if their fluff-balls are eating to their fill no matter how hard they try.
Perhaps they do not have enough time, they are busy because of a sturdy boss, or they have a demanding project at hand, whatever may be the reason, it is not "us" who are neglected; it is our cats.
You are definitely not alone in that…!
For this particular reason, many people opt for automatic electronic cat feeders, as they are the only options in the market to help them solve this problem.
So, what makes you need an automatic cat feeder for wet/dry food for your cat?
Essentially, cat feeders do the job that most of us are unable to do, still setting up and buying the correct machine for your cat is somewhat a difficult job due to the fierce competition in the market.
Therefore, making an outline based on your actual needs and ruling out unnecessary options is one of the most useful things you can do before actually going out to buy a cat feeder.
This is the place where most of the cat owners make mistakes, but do not worry; we have you covered.
Cats are moody and they will certainly not like everything you buy for them. Therefore, it will be helpful to keep your cat's habits in view while making such choices.
For example, your cat might like a certain color or not like it. Your cat might not be able to meet the physical requirements for an automatic feeder, like not being able to feed itself or something like that.
Then again, there is the chance of your cat damaging the cat feeder and triggering a malfunction.
These types of things require addressing before you finalize a cat feeder and should be your primary concerns.
The market gives you three different kinds of cat feeders based on the type of food they will serve.
Wet Food Cat Feeders
Dry Food Cat Feeders
Multi-purpose Cat Feeders (they serve both wet and dry cat food)
Once you have outlined a few products based on your preferences and needs, it is time to check the user reviews.
The only benefit of having mainstream online shopping today is "Customer Reviews."
You can go through and read hundreds of reviews about a single product that will help you understand the product as well as get to know its functionality.
It is a good practice to read at least five different reviews before you decide to buy a product. This way, you will have sufficient knowledge of what you will be buying.
To summarize, consider the following table,
| | | |
| --- | --- | --- |
| Step – 1 | Step – 2 | Step – 3 |
| Get To Know Your Cat | The Type of Food | Market Reviews |
| Eating Habits/Physical Ability/Possible Turnouts | Wet Food /Dry Food/Both | Positive/Critical and Detailed Negative |
Now that you know what you should be checking before buying a cat feeder, we will make it even easier for you.
Here is a list of best automatic cat feeders that will help you in taking care of your cats.
Some of the best cat feeders for dry food are as below,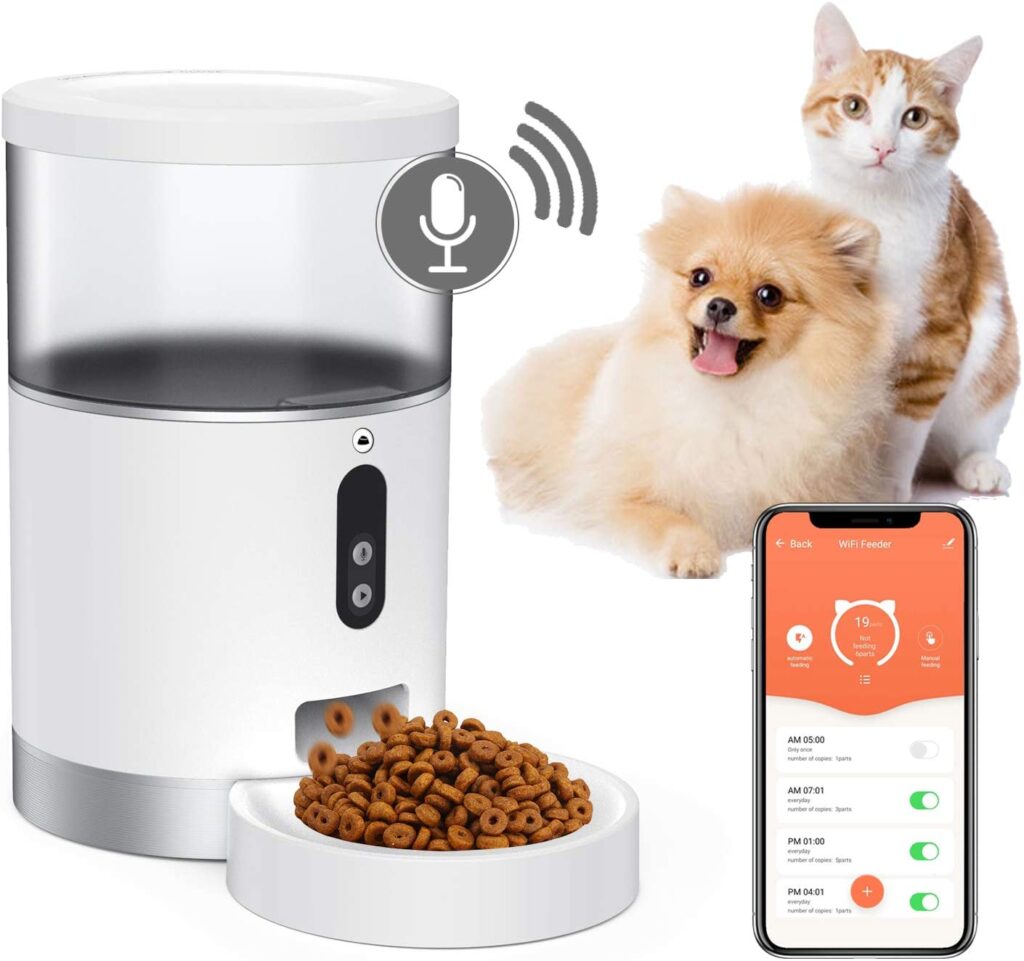 If you are looking for a high-end cat feeder with endless modern features, the Peteme Automatic Cat feeder is the one. It is a one-stop solution for all your car feeding-related issues while you are not at home. The feeder connects to 2.4GHz Wi-Fi through which you can feed your cat. The desiccant keeps the food dry and serves your pet by Wi-Fi instructions. You can also share the connection with your family and friends if you cannot manage it yourself.
Additionally, the Peteme Automatic Cat Feeder has an in-built system that lets you schedule the meals. You can plan six meals a day with a 2- 10 mm pallet size. The machine's advanced technology ensures that your cat does not feel your absence with the presence of voice interaction feature. Record a message in your voice, and the cat feeder will play it as per the input time.
The Peteme Automatic Cat Feeder comes with a USB cable, one power adapter, one desiccant, and a user manual.
While looking for a cat feeder, we look for the ones our cats would adapt to comfortably. Feeding your cat can be a hassle if they do not want to eat from the food bowl. The Qpets AF 108 Plus Programmable Automatic Pet Feeder is a convenient and attractive cat feeder. The design is different from the traditional cat feeders, yet it provides all the functions you want.
The best thing about this cat feeder is that it is portable. It does not require electricity to operate. Instead, you only need 4 C size batteries and carry it anywhere you want. The size and design of the cat feeder are per its portability. Besides, the batteries last a long time, so you do not have to change them frequently.
The Qpets AF 108 Plus Cat Feeder has 6 trays to keep food. You can put the cat food in these trays, and it will serve the cat as per the timer. The voice message setting enables you to talk to your cat despite being away.
Qpets offers a 100% money-back guarantee if you are not satisfied with the product.
When most pet feeders allow up to six feeds a day, PetSafe offers some extra for your pet. With PetSafe Healthy Pet Simply Feed Automatic Dog and Cat Feeder, you can schedule up to 12 feeds for your cat daily. Yes, double as compared to what other feeders offer! Moreover, you can split each meal into several portions of 1/8 cup to 4 cups. Sometimes, pets need very quickly, and owners want to give them smaller amounts. This feeder allows dispensing 1/8 cups of kibble every fifteen minutes.
The plastic used in the feeder is BPA-free and safer than BPA plastic utensils. You can buy a 2-meal splitter accessory with the feeder as well.  PetSafe Healthy Pet Simply Feed Automatic Dog and Cat Feeder not only makes feeding easy but also cleaning. Place the stainless steel bowl and other plastic parts of the machine in the top rack of the dishwasher to ensure proper washing.
The machine operates by either an adapter or batteries. Use 4 D-cell alkaline batteries or buy the adapter from PetSafe.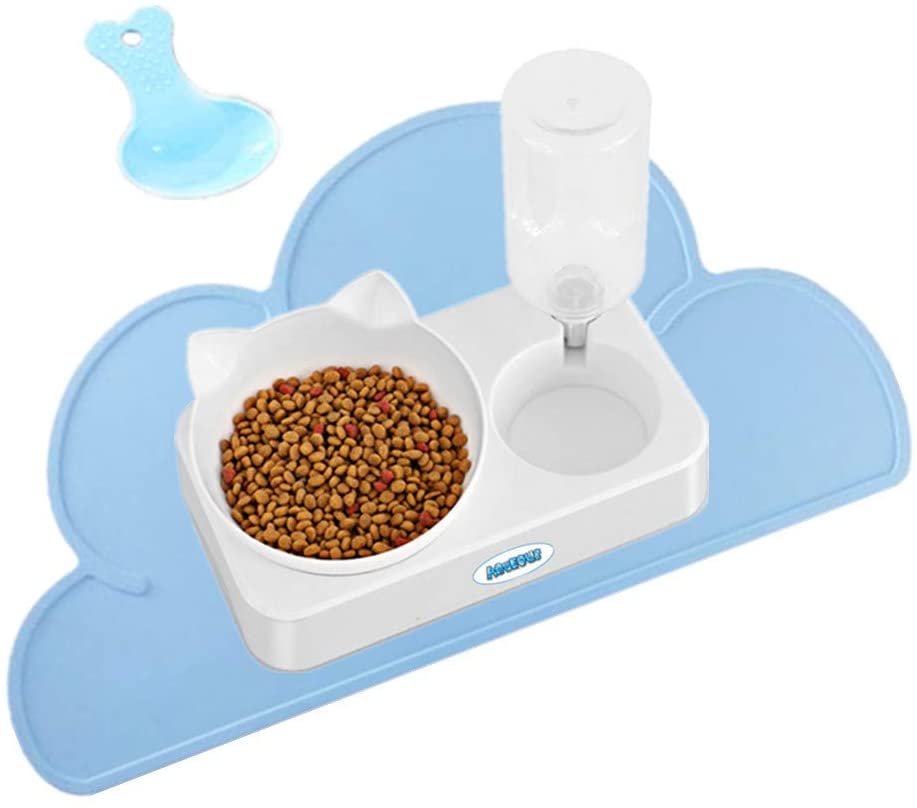 There is a wide variety of automatic and manual food feeders for cats. Whereas many of them are equipped with the latest facilities, some traditional ones are also available. If you are looking for something simpler, the Aqueous Plastic Cat Food Bowl can be your best choice. This cat feeder has a bowl for dry food and another one for the water. It is not huge, yet it has an additional feature that many cat feeders do not possess. The water container is a unique specification of the Aqueous Plastic food bow.
The design contains a food bowl and a water bowl that has a bottle attached to it. The bottle is automatic and capable of keeping the container filled from time to time. It has a capacity of 16.9 oz. You do not need to worry about your cat's drinking needs when you are out.
The assembly has 0-15° adjustable food bowls to provide comfort to your cat. It protects your cat's cervical spine so it can enjoy the food. Also, the manufacturing material is high-quality plastic and safe for your cat.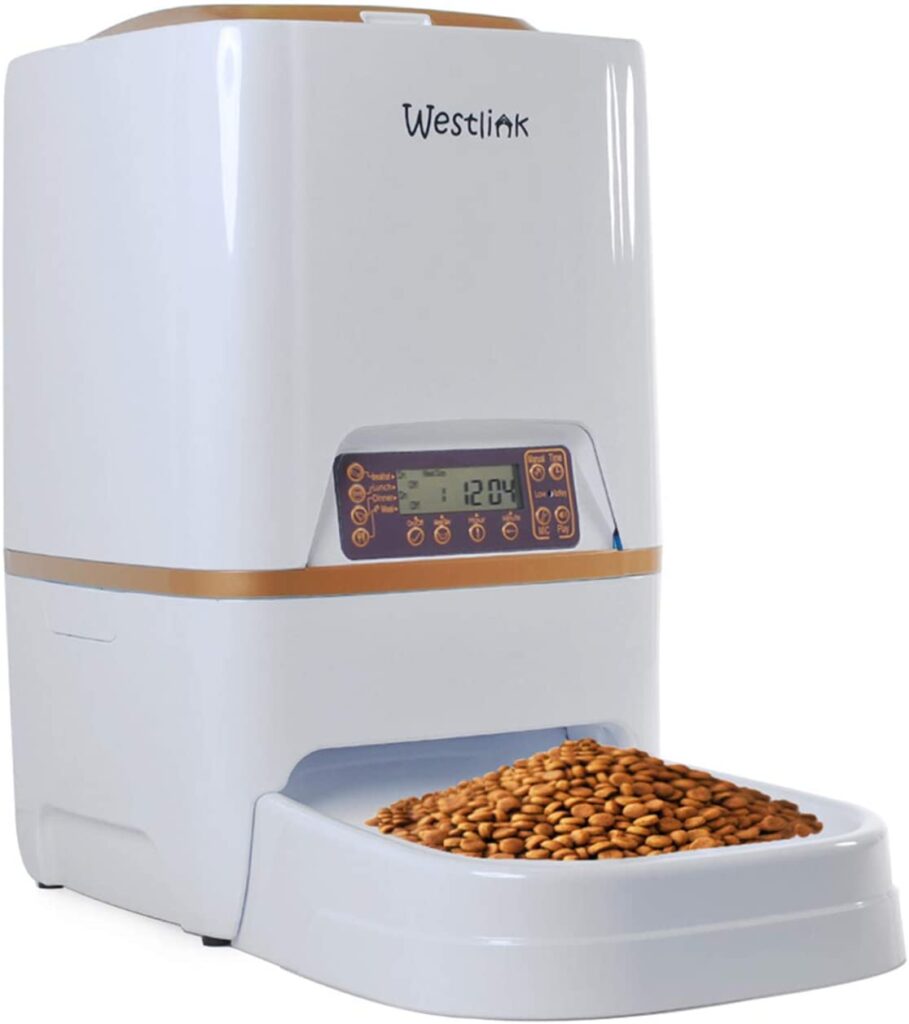 This dry food cat feeder is another convenient option on the list. The Westlink food dispenser is made of good quality plastic and has a whopping 6 liters capacity. The feeder can dispense up to 4 meals every day, which you can divide into as much as 39 portions. The weightage of each portion is around 12 grams. You need to set in the number of meals and portions and leave the rest on the automatic feeder.
The WESTLINK 6L Automatic Pet Feeder Food Dispenser has a unique feature that you rarely find in cat food dispensers. It has built-in infrared detection to avoid food locking and spills. It works fine with all kinds of dry cat food provided that the size is not more than 1cm*1cm. Food particles bigger than this size might get stuck in the dispenser outlet.  You can also record a voice message as long as 10 seconds to interact with your cat.
Another feature that makes Westlink favorite among cat parents is its low power consumption. Use 3 D batteries or USB power to operate the food dispenser.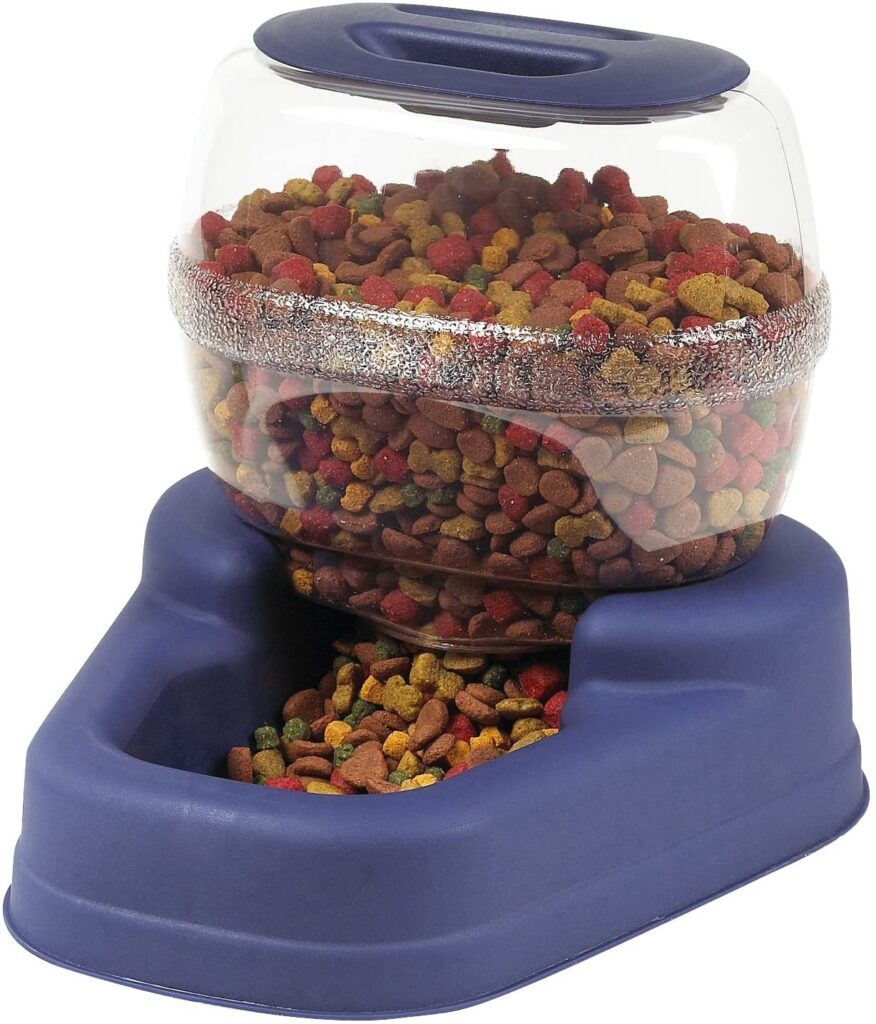 The Bergan Gourmet cat feeder is excellent for free-feeding cats. It does not require a timer or provide minimal portions. It is somewhat a traditional and simple cat feeder that provides food and water to your cat. The Bergan Gourmet cat feeder is a set of two feeders, one for dry food and one for water. The design consists of a container, and the food or water flows from the outlet into the bowl. This ensures an uninterrupted flow of food and water for your cat. The rigid base prevents spilling, whereas the lid keeps it from tumbling.
The plastic is BPA free and convenient to manage. You can refill the containers easily by taking them out of the bowl. The wide opening makes filling and dispensing easy. Each box has a capacity of 6 pounds. You can buy one feeder instead of the pair if you wish.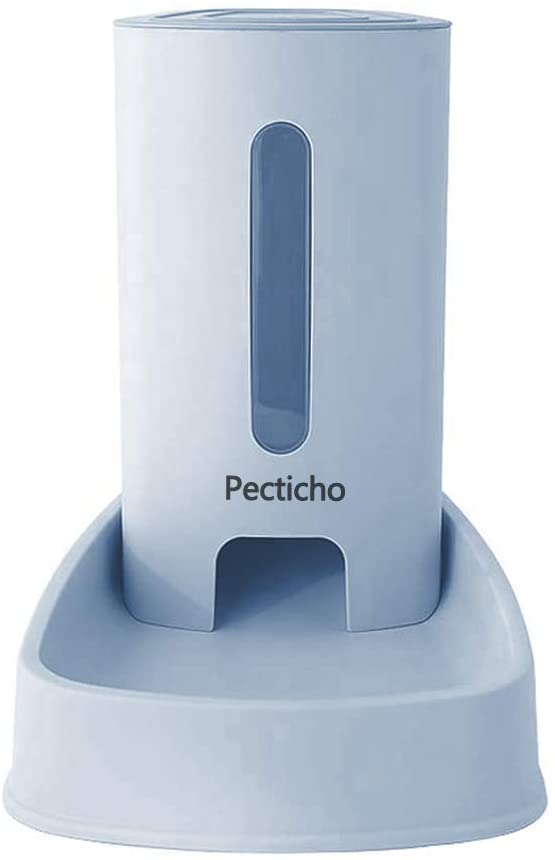 The Pecticho Pet Feeder is somehow similar to Bergan Gourmet cat feeders with more capacity. The design consists of a tall container placed in a bowl for the cat. It is the beauty with brains owing to its elegant design. The container and bowl are primarily made of plastic with a transparent cover on the front. You can see the remaining amount of feed in the box through this transparent cover and fill it when needed. The material used to manufacture this pet feeder is environment friendly and non-toxic to ensure your cat's safety.
The Pecticho Pet Feeder is a slow gravity feeder that keeps on adding foods to the bowl gradually. You do not need to schedule meals, and this is a relatively good choice for free-feeding cats. It has a capacity of 2 liters. However, you can control your cat's portions by filling only as much as you want your cat to eat in a day.
The feeder is as easy to clean, as it is to use. Remove the lid on the container to refill food and clean or disinfect.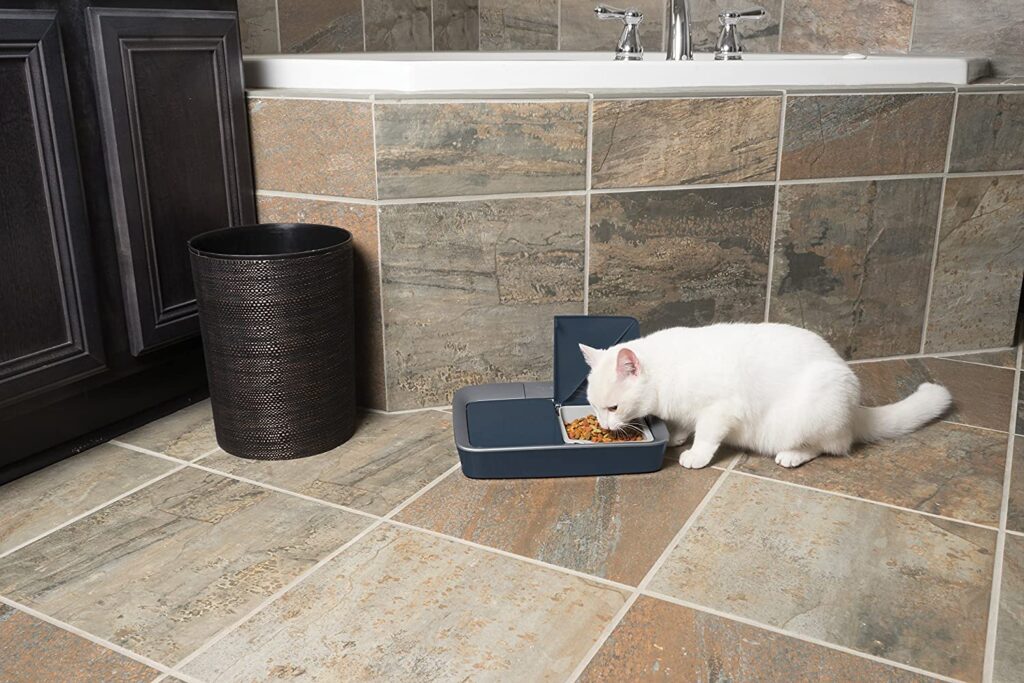 Do you like all the amazing food dispensers but no place to put them in your house? Don't worry; you would love PetSafe Cat and Dog Food Dispenser. This cat feeder has a compact and sleek design that takes the least space. The bowl holds approximately 1.5 cups of dry food for your cat. You can pre-schedule meals for up to 4 days with multiple meals a day. The digital timer helps to set the meals in a one-hour increment for your pet. The assembly is dishwasher friendly, and you can wash the components in the top rack of your dishwasher.
Other than the 2-meal digital feeder, PetSafe also offers an automatic 6-meal feeder. You can contact the U.S based customer care service at any time of the day, Monday to Friday at 1-800-845-3274. The helpline can guide you about the right cat feeder as per your requirements and answer your queries.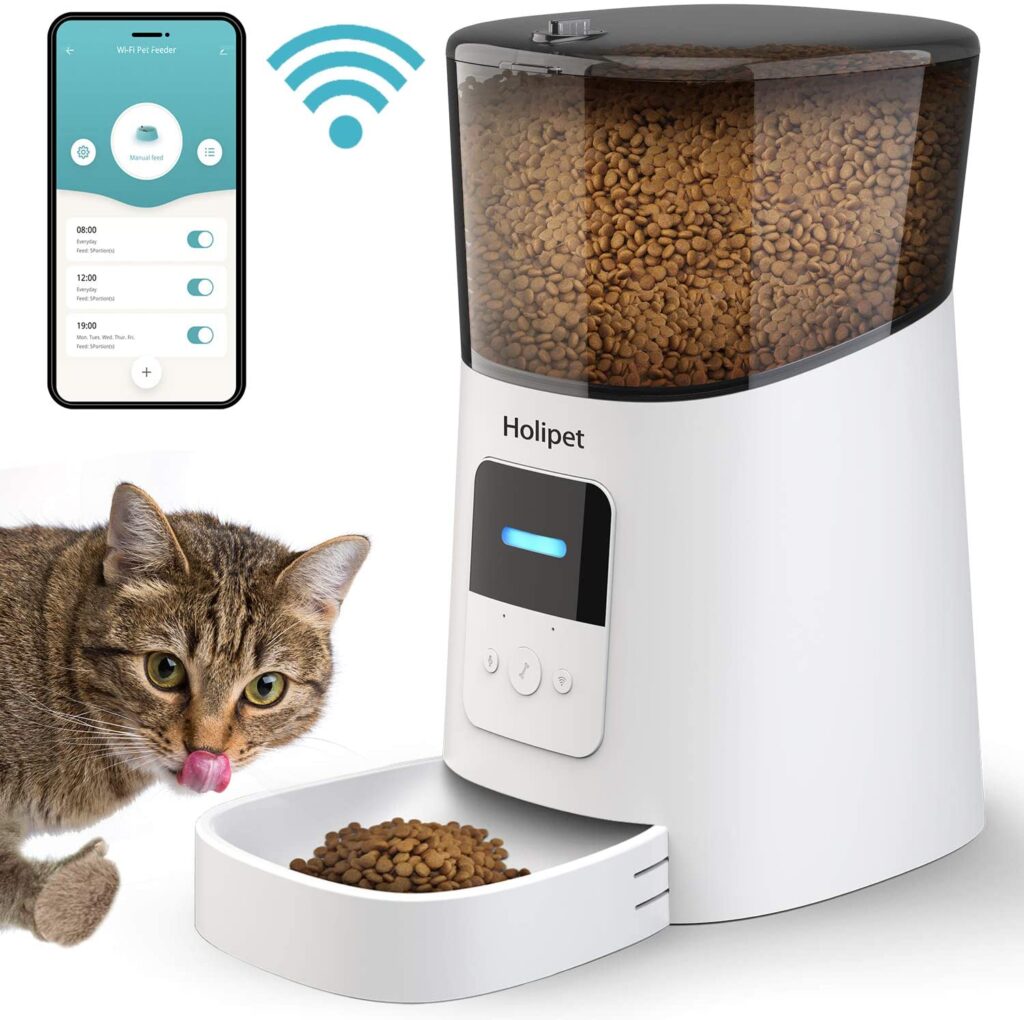 The stylish and very handy Holipet Automatic Cat Feeder can be the cat feeder you have been looking for. The feeder has a Wi-Fi enabled feeding system that you can operate through your phone. The Pet Zero app for android and iPhone makes it even easier to manage and schedule your cat's feeding sessions. Schedule your pet's meals through the phone app and give it up to 15 meals a day. Moreover, you can split each meal into up to 50 portions of 5 grams each. It is possible due to the feeder's enormous 6 liters capacity. The infrared feature prevents wastage by only adding food in the bowl when it is empty.
If you are wondering what is unique about this feeder, let us tell you. If you are not able to check the remaining food in the container, you receive a notification. The feeder will notify you when the food level is low or empty. Also, a safety switch is present that prevents having excess food into the food bowl other than scheduled feedings.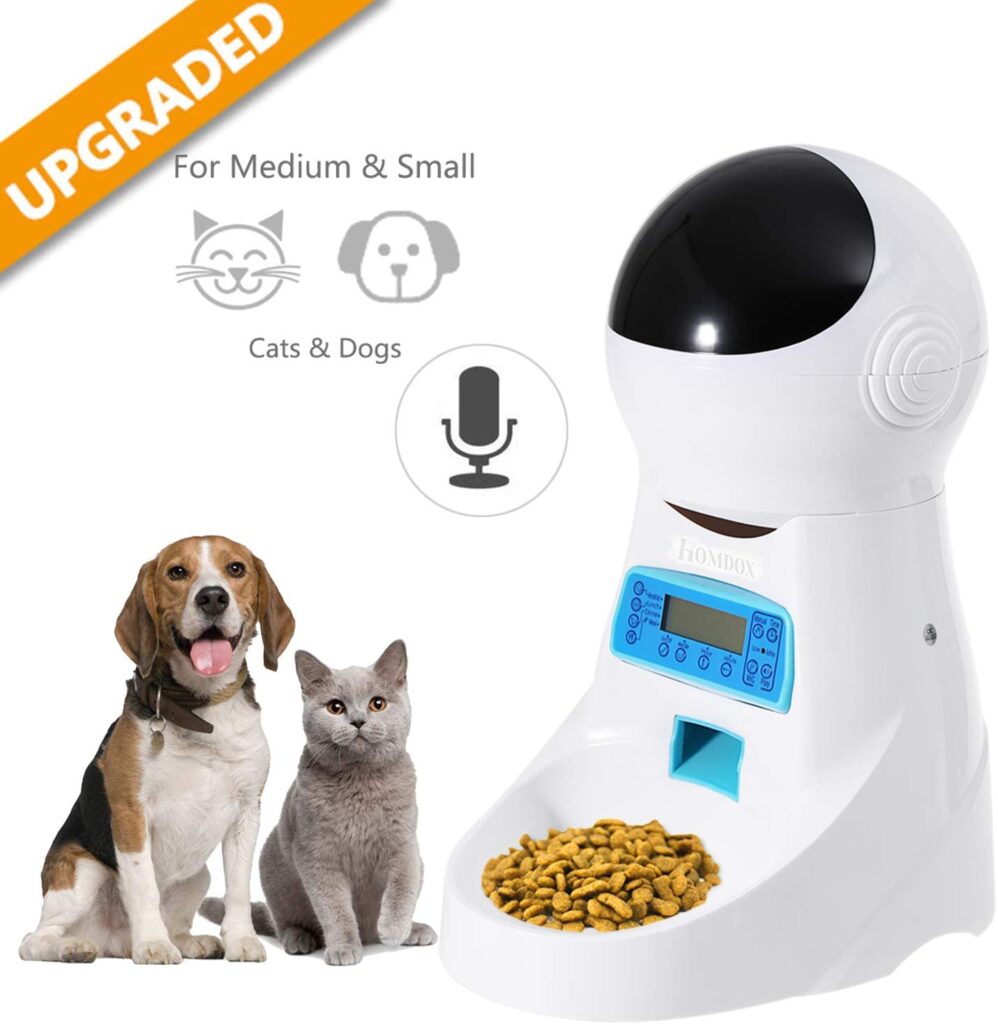 The automatic cat feeder is a lifesaver if your cat keeps waking you up early morning or late night. The built-in program lets you pre-schedule your cat's meals up to 4 times a day. You can put in the timing of your cat's breakfast, lunch, and dinner along with a 4th meal option for the night. It is an excellent choice to keep control of your pet's diet. Each meal can be divided into 39 portions to develop healthy eating habits for your cat. The dispenser is programmed to play a voice recording at the time of dispensing food. Record the voice up to 10 seconds and play it as per your choice. 
The Automatic cat feeder requires 4 D size batteries to operate. The batteries last fairly long enough.
Another fantastic characteristic of this cat feeder is its ability to keep food fresh. The food container is leak proof and keeps the cat food fresh for a reasonable period. It keeps your pet from having stale food. The whole package consists of an automatic cat feeder, an adapter (you can also use batteries), a USB cable, and a manual.
Top Picks: Cat Feeders For Dry Food
Here are some of the best products that I think are worth buying,
Recommendation
Key Features
Market Reviews
Food Compatibility
1. HOLIPET Automatic Cat Feeder
– Wi-Fi Enabled
– Automated
– Android App
– 6 Liter Capacity  
Very Good
Dry Food & Low Liquid Food
2. Qpets AF 108 Plus
– Cat Friendly
– 6 food trays
– Portability
– Feed Schedule
Very Good
Dry Food & Low Liquid Food
3. PECTICHO PET FEEDER
-Best for Free Feeding cats
– Elegant Design
– Premium Build
– Easy to use
Very Good
Dry Food
Best in Value for Money:  "HOLIPET Automatic Cat Feeder"
Best in Features: "PECTICHO PET FEEDER"
Best in Capacity: "HOLIPET Automatic Cat Feeder"
You should prioritize these options while searching for the best cat feeders for wet food,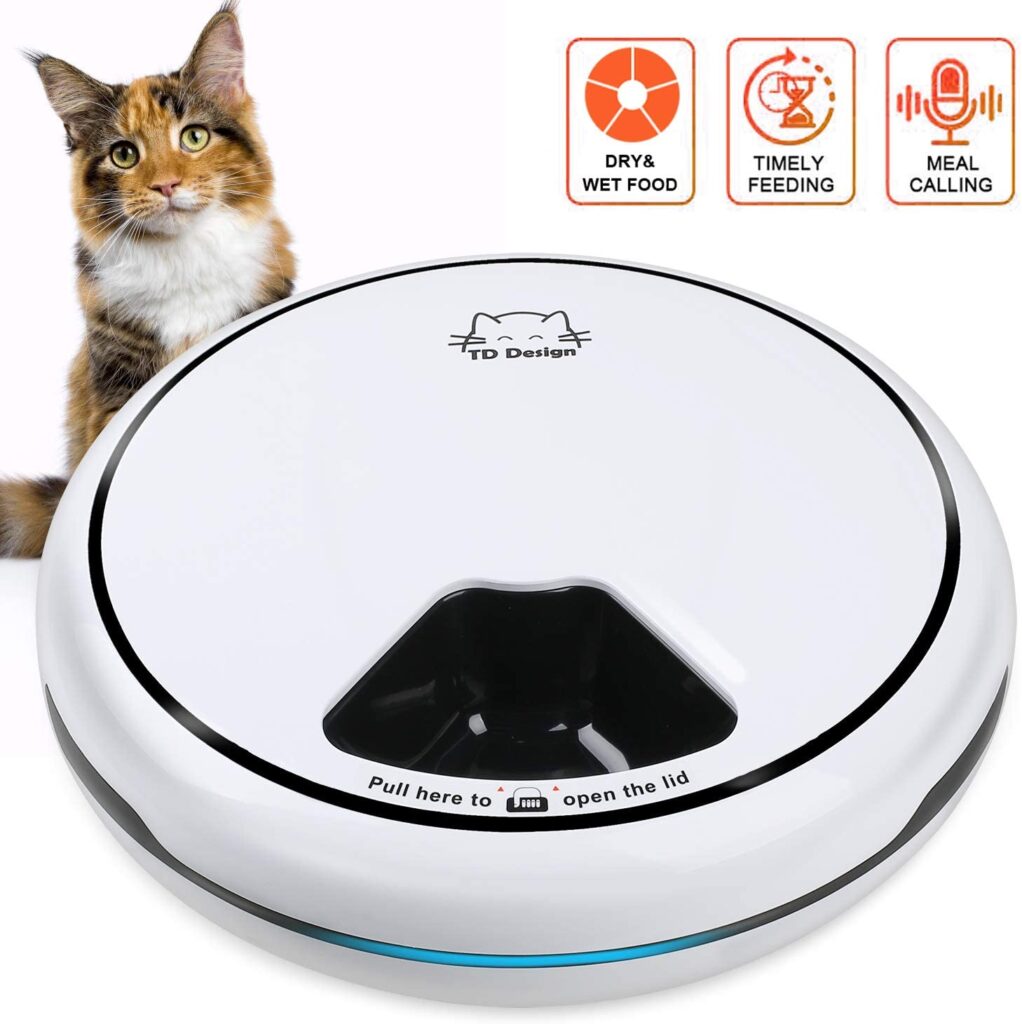 If you are worried about feeding your cat while you are not at home, TDYNASTY has the solution to your worries. The 5 meal automatic dispenser is an elegant white colored feeder for your cat that is advantageous and sophisticated. The timer in the food dispenser lets you time your pet's meals as per your convenience. It has five separate portions or trays in the feeder, which you can fill as much as you want. The trays have a capacity of 2 lb wet food for your pet. The manufacturing material is BPA free plastic that is odorless and environmentally safe.
At the scheduled time, the feeder emits blue light to attract your cat along with playing your voice 3 times. You can record any message you wish, like "Food time," "Hey Bella, have your food," or anything else. Operating the dispenser is quite simple. Install the battery, fill in the food, cover it, and set the timer. Your pet will get food on time regularly.
With the TDYNASTY DESIGN 5 Meal Automatic Cat Feeder, you do not have to worry about spills. The push-on snap prevents the spill by closing the dispenser tight enough to be opened by the cat.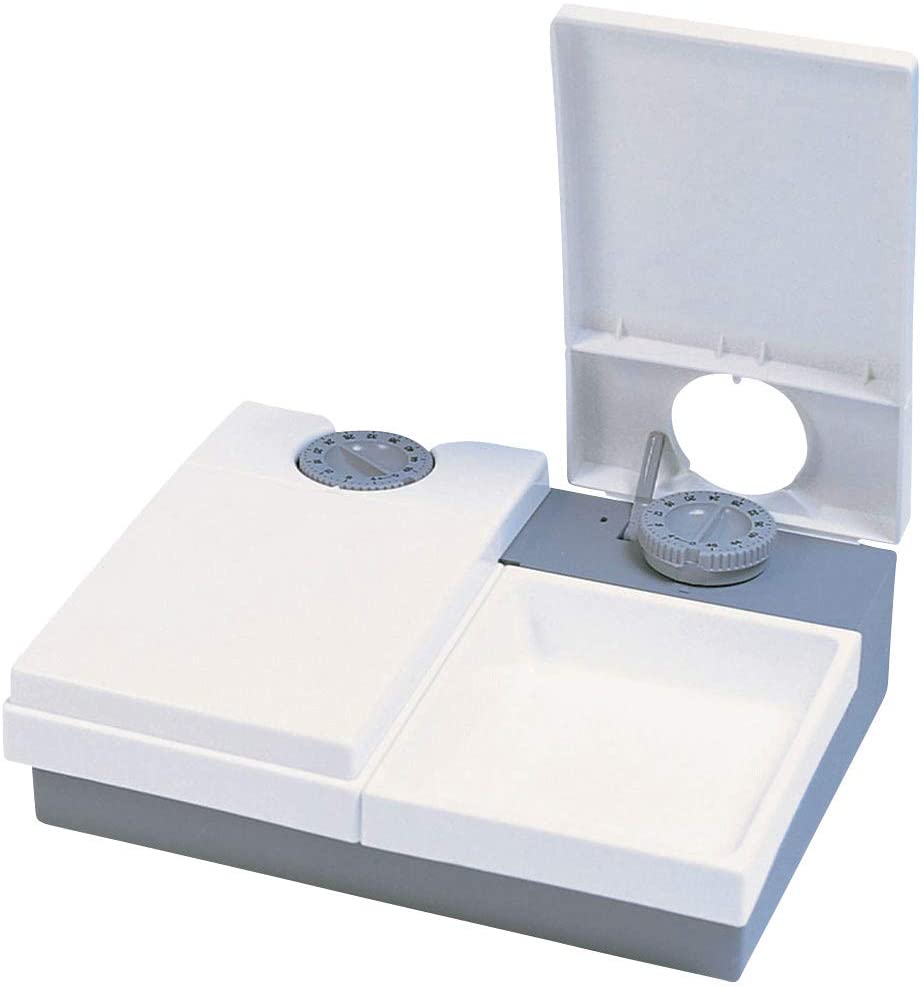 Ice packs play a significant role in keeping your pet's wet food fresh. The Cat Mate C20, 2 Bowl Pet Feeder with Ice Pack, is among those that ensure fresh food for your pet every time. The feeder consists of two large feeding trays with a capacity of 1 pound wet food each. Set the timer by turning each dial as much as you want the gap between two feeds. The timer lasts for up to 48 hours. It does not need an adapter to operate, but only one AA / LR6 battery lasts as long as 12 months or more.
You can use the two bowl feeder to feed two cats or one cat at different times of the day. After feeding, the bowls can be cleaned easily by placing them in the dishwasher. Cat Mate C20 2 Bowl Pet Feeder has a 3-year warranty with an ice pack. Spare ice packs are also available at the Cat Mate store.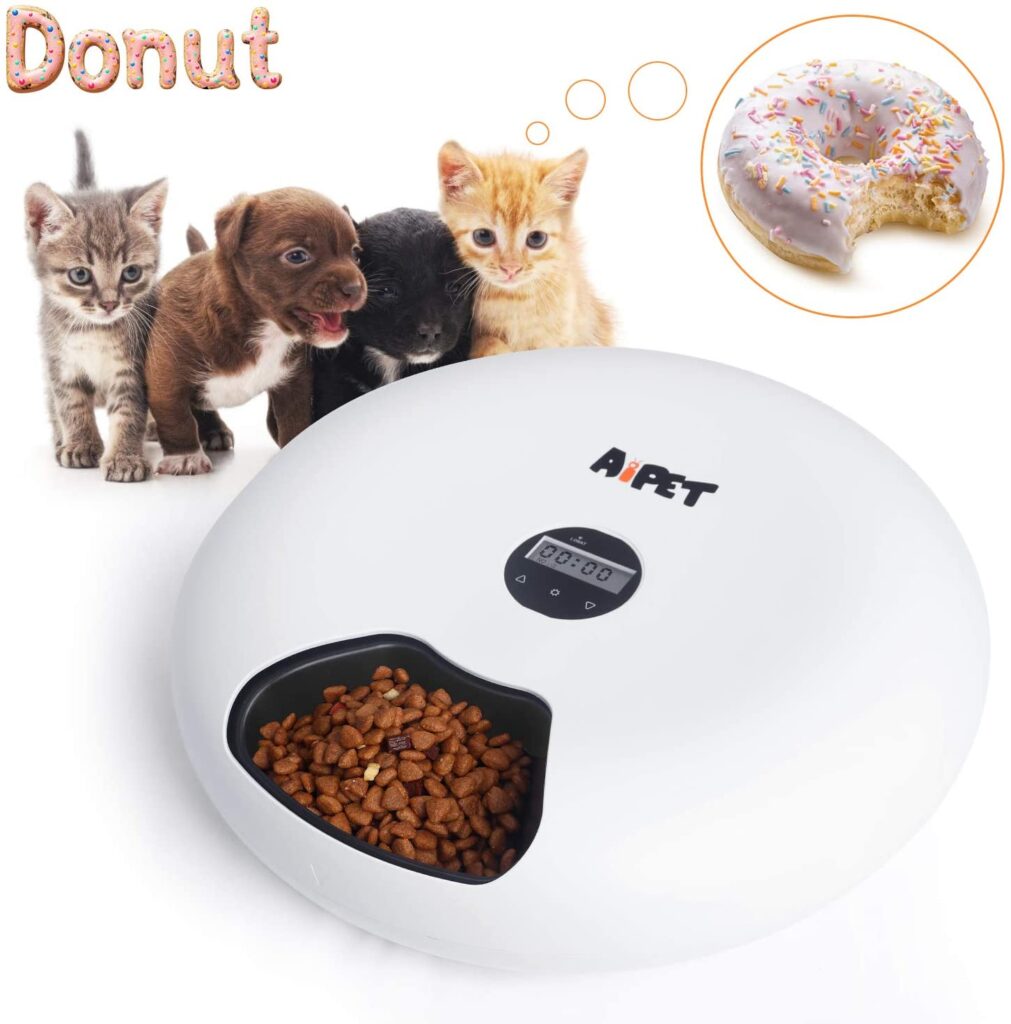 If you are a pet parent who is a little more worried about their pet's safety, you might like the AIPET Automatic Pet Feeder. The feeder has a capacity of more than 36 ounces, with each tray able to serve 180 ml of dry cat food. Scheduling your cat's meals is convenient with the handy panel and six trays. Set the time for 6 meals and be worry-less about your pet's feed all day.
The digital timer allows you to fix the time and keeps note of the number of meals fed. There are 3 buttons to set, increase, or decrease the time. Your pet would not be able to change the timer due to the presence of the safety button. The indicator shows you the number of feeds, time, and low battery. Use it with a USB cable or three C batteries. The food tray has a proper locking system and mats on the bottom to prevent tripping.
The AIPET Automatic Pet Feeder's special design makes it possible to save your pet from injury. In case the cat's feet enter the food tray, it will stop rotating to protect the pet.
The only tool you need to make most of this cat feeder is a mobile phone. The modern automatic pet feeder by Petsafe is Alexa enabled. You just have to ask Alexa and monitor your pet's meals through the phone. The dispenser is compatible with iOS 9.0 or more Android phones with 6.0 software or later. You can be notified through the app when the food levels are low, or the dispenser is empty. It can hold 24 cups of semi-moist food. Additionally, it lets you schedule as much as 12 meals a day, divided into portions. The smallest serving of 1/8 cups every 15 minutes is the right choice for fast eaters to give them time to take in the food properly.
The dispenser is dishwasher safe and has a power adapter to operate it. Though, you can also choose 4 D alkaline batteries if you want to go wireless.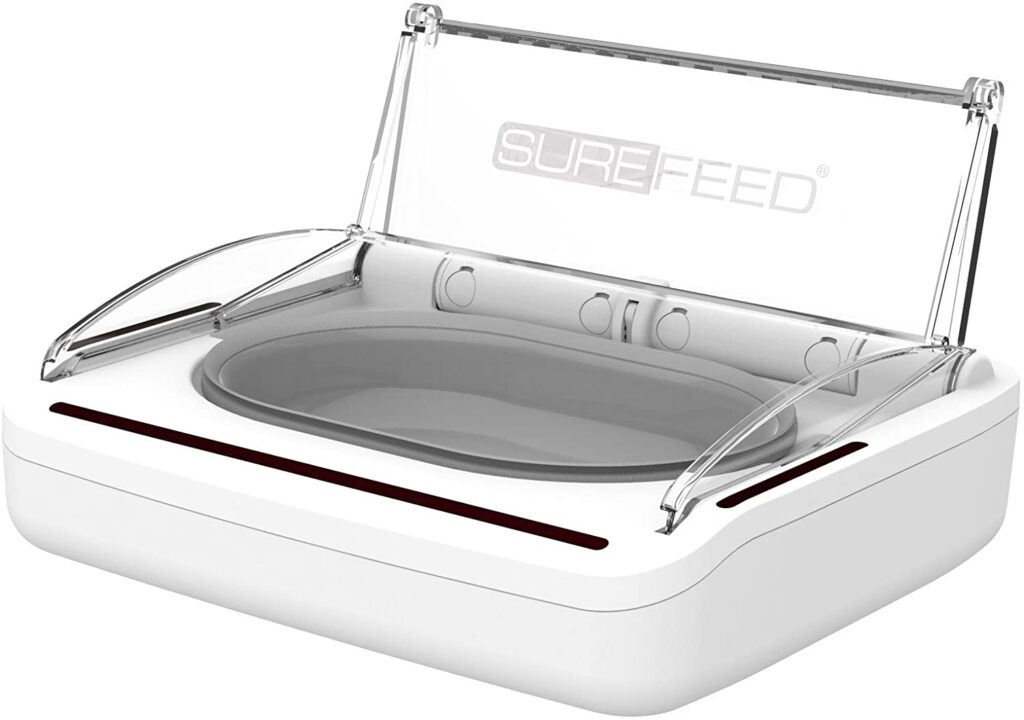 The motion-activated sealed pet bowl is the ideal feeder for free-feeding cats. It has a compact and sleek design that can fit anywhere in the house, taking the least space. The bowl comes with a transparent lid and a motion sensor. The motion sensor allows your pet to eat whenever they want to. It is a good option for cats that manage their weight and are not obese. You can fill 13 oz. of wet food in the tray, which stays fresh for a long due to the Neoprene lip seal. The airtight seal helps to keep the smell of the food and saves it from the spill. It is supported by silicon toes on the bottom that attach firmly to the floor to avoid sliding. It has a huge opening for filling and eating food for your pet to be comfortable.
 The motion-activated sealed pet bowl uses 4 C batteries that have a 6 month-long battery life. Yet, you do not keep track of it as the feeder indicates when the batteries need to be replaced. The feeder comes with a 3-year warranty to make your life worry-less regarding your pet.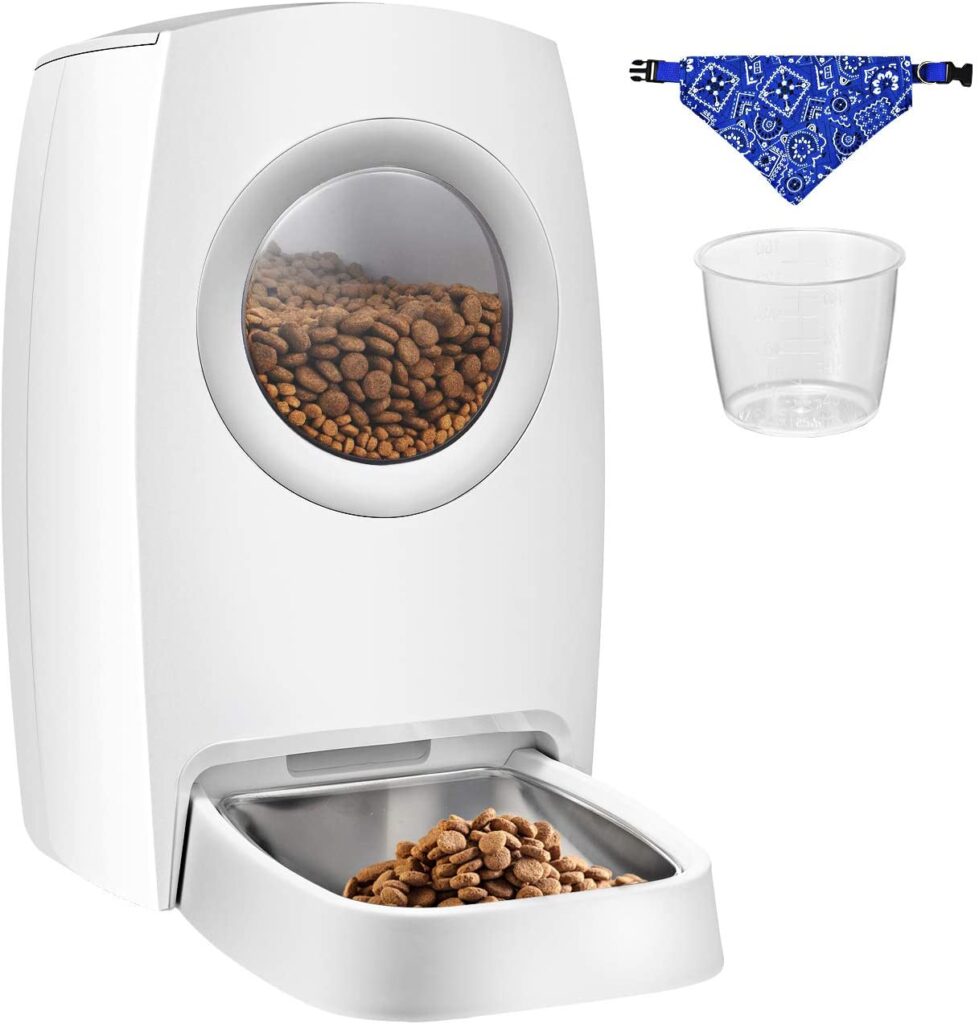 Are you tired of having to fill your cat's feeder frequently? The OKMEE Automatic Cat Feeder, with a capacity of 6 lbs., lets you fill the dispenser and be stress-free for a longer time. 6 lbs. wet food is enough for two weeks for a cat. The food does not go stale, as a space for desiccant is present in the feeder. The feeder also has a silicone gel baffle that ensures smooth dispensing of the food. The infrared detector fills the bowl as soon as it is empty and prevents spillage due to overfilling. Remove the stainless-steel tray from the assembly to wash it in the dishwasher. The lid needs to be pressed to open so that your pet cannot mess with the dispenser. The transparent window makes it easy to check the food level in the dispenser for timely filling.
Use the timer to schedule your cat's daily fresh meals. Place a desiccant in the space provided for it. It will prevent the cat food from going stale.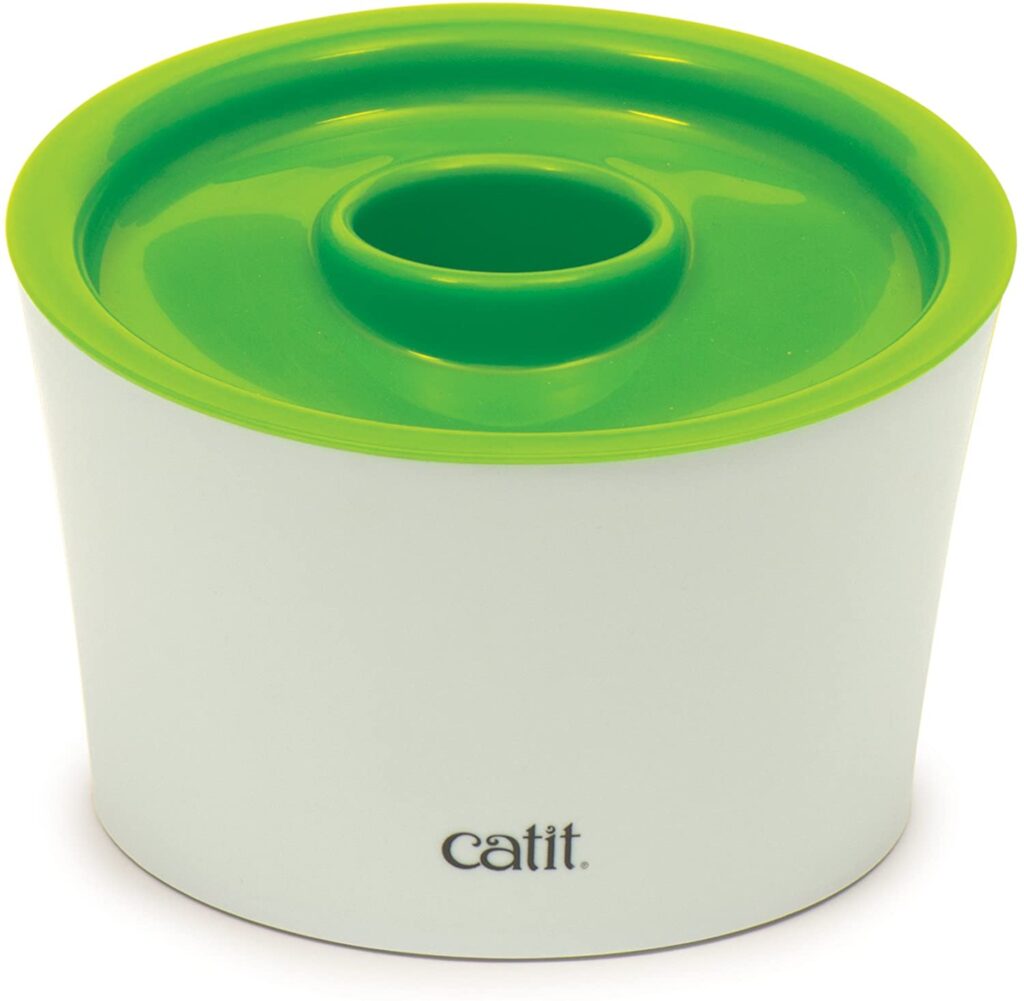 The Catit Senses 2.0 Multi Feeder is the perfect combination of creativity and innovation. This feeder does not have a timer or Wi-Fi, but it is best to keep your cat busy. The multi feeder comes with a deep bowl and a lid. The lit is in the shape of a shallower bowl with a pit. The bigger bowl can be used to store your pet's food for later use. At the same time, you can use the lid (bowl-like) for feeding your cat. Place the wet food onto the lid and dry food in the pit of the cover. It provides an excellent opportunity for your cat to play and try to finish the food in the pit. It also tends to prevent binge eating. The box has a comfortable height for the cats to reach with a whisker stress-free design. As the product is made of plastic, you can wash it easily with any dish-washing soap. It is better to use natural soaps that are free from abrasives and safe for your cat.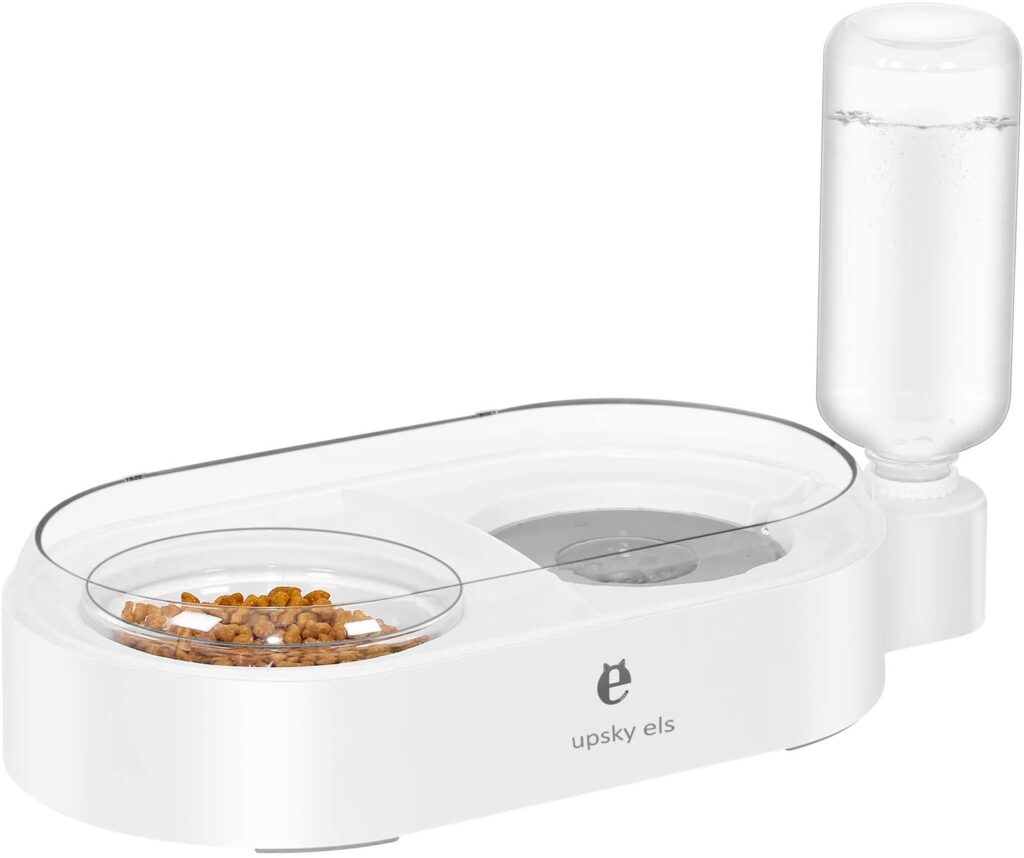 Are you looking for a cat feeder that provides you all the essential benefits and looks pretty at the same time? If so, you'd want to buy the UPSKY Double Dog Cat Bowls right away. This cat feeder contains a set of two bowls, one for food and the other one for water. The water compartment has a bottle attached to the outer side that can hold around 17 oz. liquid. The bottle acts as a water dispenser and works on the Siphon principle ensuring uninterrupted water supply. The dispenser's capacity is enough for 2-3 days. It is designed in such a way that it keeps the whiskers from getting wet.
Due to the uncomplicated design of the assembly, you can take the bowl out and wash it in the dishwasher. However, the lower part should not be cleaned in the dishwasher. The feeder is made of environmentally friendly material for your cat's safety. The glass bowl holds up to 3 cups of water at a time and fixes firmly to the base to avoid spilling.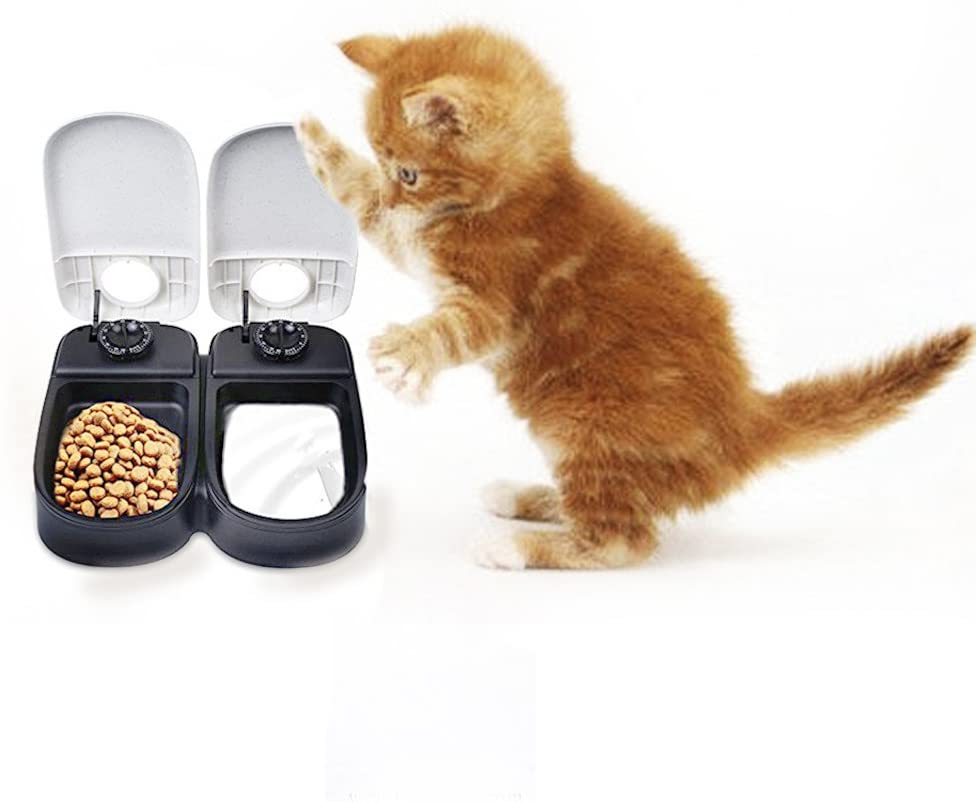 The Petzilla Automatic Pet Food Feeder is a simple cat feeder with ice packs to keep the food fresh for a long time. It comes with a timer that allows you to set a timer for two meals as long as 48 hours apart. Each of the cat feeder trays can hold almost 300ml of wet food at one time and serve it to your cat at the scheduled time. This pet food feeder is battery-operated and requires AA batteries. Installing the feeder is very simple, and you can do that easily by following instructions on the manual. You would have to freeze the ice pack before placing it beneath the feeder for added food freshness. The Petzilla Automatic Pet Food Feeder does not require any special cleaning instructions. You can wash it just like you usually wash utensils under the tap.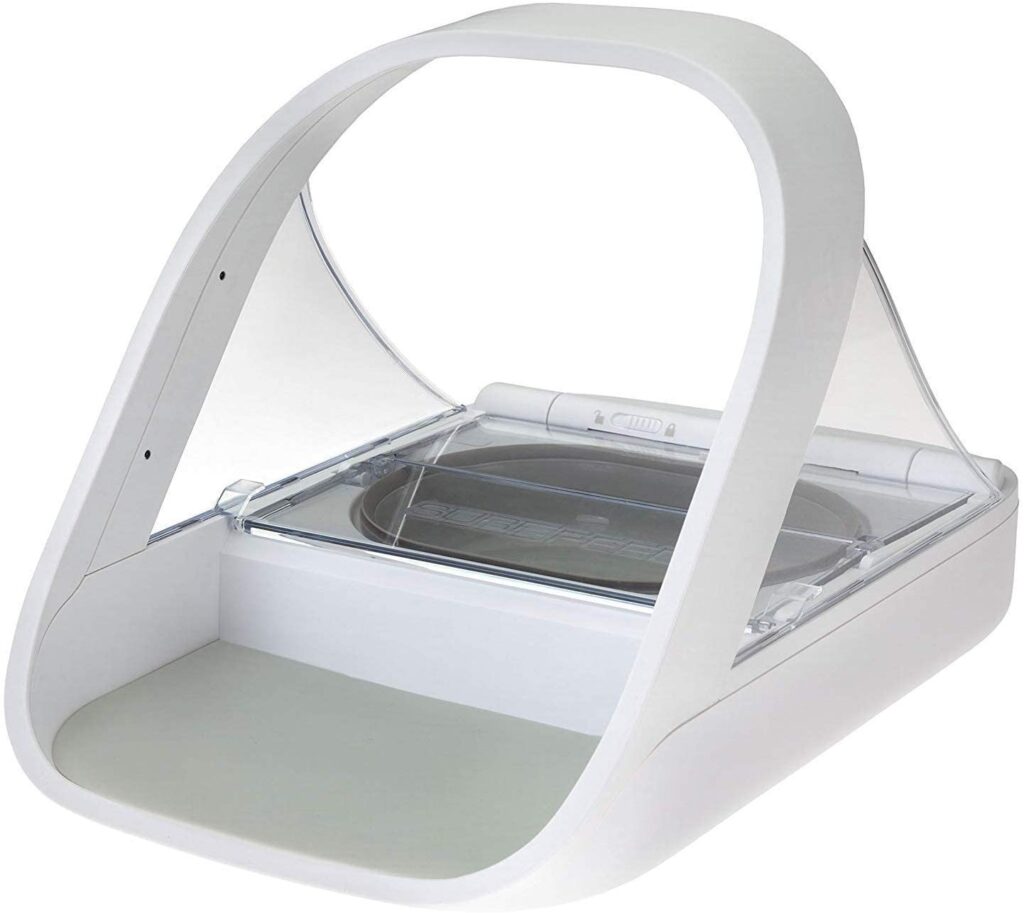 Are you tired of your pet stealing another's pet food in the house? The microchip pet feeder is there to sort this out for you. The microchip pet feeder by SureFeed feeds your pet according to its microchip number. The feeder automatically opens the lid when the pet with a matching microchip number comes near. The cat can also communicate with the feeder by wearing a lightweight RFID collar tag. The container holds 13.5 oz. of wet food, and the neoprene lip seal keeps the food fresh for a longer time.
The set includes a SureFeed microchip pet feeder, a single bowl, a split bowl, an RFID collar, a grey mat, and a manual for better understanding. The microchip feeder is a recommendation of many Veterinarians and is available under a 3-year warranty.
Top Picks: Cat Feeders For Wet Food
For wet/liquid feed, these options have proved to be the best in market; they provide value for money as well as a great customer experience,
Best in Value for Money:  "PETZILLA AUTOMATIC PET FOOD FEEDER"
Best in Features: "CATIT SENSES 2.0 Multi Feeder"
Best in Capacity: "OKMEE AUTOMATIC CAT FEEDER"
Hence, the best cat feeder for you may not be in the above list. In that case, you will have to rule out options based on the buying tips we showed you at the start of this article.
Happy Cat Care!